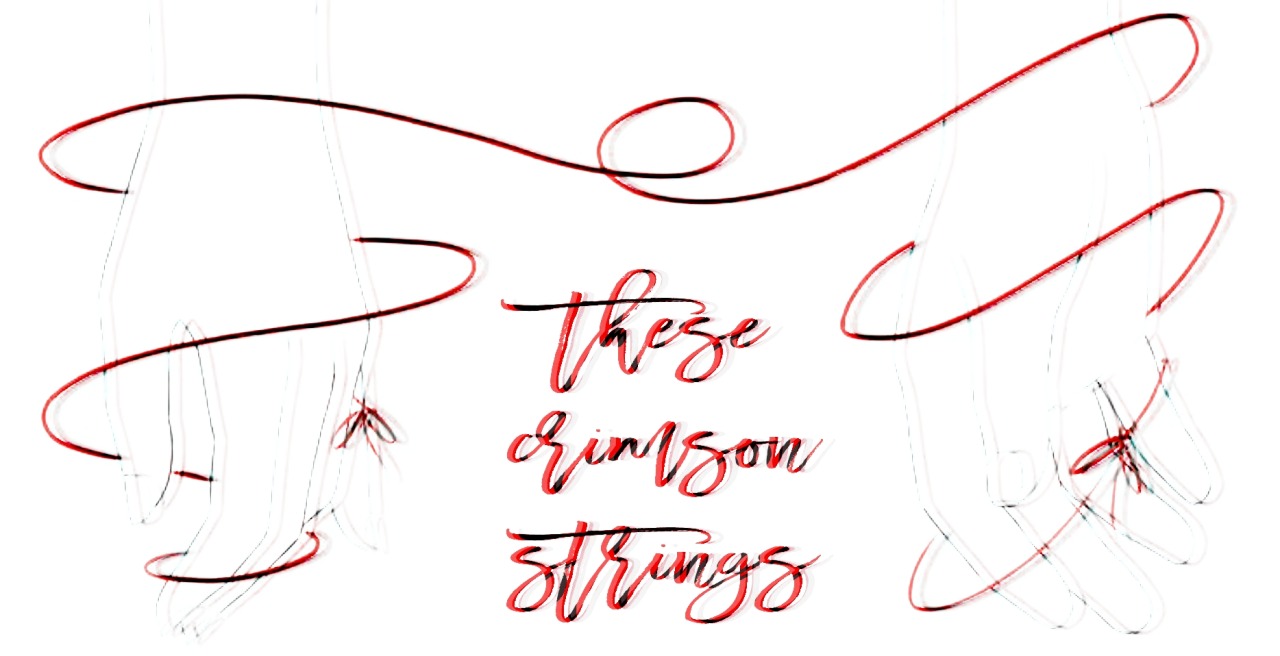 These Crimson Strings
❝𝕿𝖍𝖊 𝖘𝖙𝖗𝖎𝖓𝖌𝖘 𝖎𝖓𝖈𝖑𝖎𝖓𝖊 𝖚𝖘, 𝖙𝖍𝖊𝖞 𝖉𝖔 𝖓𝖔𝖙 𝖇𝖎𝖓𝖉 𝖚𝖘.❞


You are 3000 years old. More or less. Not like you actually care. You stopped counting ages ago. Your early undead life was preoccupied with other things to the point that you were only happy that the pesky hunters did not find and kill you yet.
Your travels bring you to the closest thing you would ever come to the kind of happiness that can shatter bones. And you would gladly let it be. It was when you met them. The human who would change your world forever. The human who would dare to love you with everything they have. The human who you could not save.
Your soulmate. The love of your life. Taken from you by the cruel hands of fate.
Wandering around the world with too much guilt and ache in your heart, you finally settle down in New York City. Hope that one day, either the monotony of your life or the Butchers will kill you.
But being one of the oldest vampires in the world has its own demerits and you're recruited by an eccentric but passionate Dullahan, to help protect the city. So much for lying low.
Being a guardian of a place as big as NYC is not easy but you suppose it is not the worst job in the world.
Your unlife is going smoothly until one day, you meet them again and the normalcy you had tried so hard to build, comes crumbling down like a house of cards.
Your heart and soul long for them but you will not fall for a human. Not again.
Or will you?
Connected by the red string of fate, you are destined to fall for them again and again. But will this second chance end in tragedy just like the first one?
❛These Crimson Strings❜ is a fantastical romantic drama with hints of comedy and is rated 17+ for mild sexual themes and violence.

Ronan Bennett (M, early 20s): You met him first during the late 1600s in London, United Kingdom. In that life, he was a medical student named Lawrence Abernathy, who would soon join the front lines to help people in 'The Great Plague of London'. It would be an epidemic which would soon claim the lives of approximately 80,000 people, including him. Holding him close to you as the tips of his fingers turn dark and he breathes his last, the memory has not left your psyche in about half a millennia.
Now you meet him again, reincarnated as a man named Ronan Bennett. He looks the same, he acts the same. Hell, he is even an aspiring medical student. But are all of these valid reasons for you to believe that he is the same Lawrence you fell in love with?
Witty and absolutely charming to a fault, you manage to get swept by his bleeding heart all over again. Ronan cares too much for the people around him, a fatal flaw that costed Laurie's life. You won't lose him again this time. That's a promise.
Célia Dupont (F, mid 20s): Born as Juliette LaRue to a noble family in 18th century France, she would be married off in an unhappy matrimony with an influential old man who would only see her as a trophy wife. Her husband, mad with jealousy and envy when he hears the rumours of you courting Juliette behind his back, accuses her of witchcraft while the supernatural paranoia was prevalent in north-central France. You watched her burn at the pyre, your companions holding you back to prevent you from exposing the dark supernatural underbelly of the world.
When your paths cross in modern times, your beloved dons the name of Célia Dupont. The sole heir to her parents' business and fortune, she is expected to meet the standards set for a proper future CEO. But behind the cold façade she puts up for the cameras and the world, is the same gentle and kind soul you loved centuries ago.
Even the flames of the pyre could not severe the strings tying you both. But will this time your story end with a happy note? Or is it destined to crash and burn again?


Samira / Sameer Bakkoush (F/M, early 20s): A rising starlet in the 1950s Hollywood, Ariana / Arfaan al-Abbas had the industry's eyes on them in anticipation and excitement the moment they starred as a supporting character in an indie movie. With unstoppable charisma and attractive features to back it up, they had no hard time landing good roles in movies. It is when they meet you for the first time that they find something to chase besides the glamour and stardom of the silver screen. Your whirlwind romance came to an abrupt end when an obsessed fan snuffs the lights from their dazzling green eyes.
Revenge has not made you any happier but you hoped that it had at least brought them peace. A's name fades to obscurity like they never even existed to the industry.
That is until you meet them again. Now working as an up-and-coming model named Samira / Sameer Bakkoush, it seems like their fate will always push them towards fame and recognition. Although this time, you will be prepared to take the bullet for them.
Isabelle / Issac Tachibana (F/M, mid 20s): The first time you met Reiko / Renjiro Sugiwara was when they were assigned to hunt down you and your supernatural companions during the Edo period. With the fear and unsolicited cry for the safety of humans, it was no surprise that the hunters came for your heads the second a bounty was put upon the rogue creatures who were murdering people when the sun had set.
With a sword to your throat and fire in their eyes, you knew that R's hatred for supernatural creatures, especially vampires, ran deeper than just the bounty. You play a dangerous gamble of death and yet, even they cannot stomp down the infuriating niggles of attraction that they experience when you even meet eyes.
When they sacrifice their life to save yours, the bloodlust that takes over you has half of the town grazed to a grisly scene. Even the rain could not wash away R's blood on your hands.
Meeting them in modern times has you reliving your catastrophic love story all over again. They are as human as you remember; body warm even as they press the knife against your collarbone. A burning glare directed towards you which sets your blue veins ablaze, Isabelle / Issac Tachibana hates you but it is only a matter of time before history repeats itself once again.

Play as an ancient vampire who is tired of living too long when they meet the reincarnated form of their soulmate.
Fully customize your character including: pronouns, gender, physical appearance, personality, sexuality, and many more.
Based on the legend of the red string of fate.
Inspired by media like 'Goblin', 'Tale of the Nine-Tailed', 'The Invisible Life of Addie LaRue', etc.
The person you choose in the beginning will be your locked LI for the rest of the book so just keep that in mind.
Romance 1 out of 4 love interests (1 male, 1 female, 2 F/M selectable)
You can befriend the rest of the cast after a LI is selected.
Take your chance at love again and hold your own fate in your hands.
Will you be merciful or ruthless to the rogue creatures who intend to harm the people of your city?
Unravel your past. How did the story begin? Will the human shatter your reality again like the last time you met?

| | |
| --- | --- |
| Status | In development |
| Platforms | HTML5 |
| Rating | |
| Author | axel |
| Genre | Interactive Fiction |
| Made with | Twine |
| Tags | Comedy, Fantasy, LGBT, reincarnation, Romance, Story Rich, supernatural, Twine, Vampire |
| Average session | A few minutes |
| Languages | English |
| Inputs | Keyboard, Mouse, Touchscreen, Smartphone |
| Links | Blog, Twitter, Discord, Spotify |
Download
Click download now to get access to the following files: